PREP-CRETE CONCRETE FLOOR CONTRACTORS
SHOT BLASTING | CONCRETE FLOOR GRINDING | POLISHED CONCRETE FLOORS
ARMORPOXY PREP-CRETE NYC CONCRETE FLOOR PREP DIVISION
Mechanical Concrete Floor Surface Preparation in New York, New Jersey and Surrounding Areas
WE OFFER CONCRETE FLOOR SURFACE PREP AND FINISHING SERVICES – CONCRETE FLOOR SHOT BLASTING, CONCRETE FLOOR GRINDING / DIAMOND FLOOR GRINDING, CONCRETE FLOOR SHAVING / FLOOR LEVELLING, CONCRETE FLOOR POLISHING, CONCRETE SURFACE MILLING, COATING REMOVAL, 
SCARIFYING, FLOOR TILE & MASTIC REMOVAL. WE ALSO OFFER SEVERAL FLOOR COATING/FINISHING OPTIONS INCLUDING EPOXY COATINGS AND COMMERCIAL TILE INSTALLATION.

*AUTHORIZED DUR-A-FLEX INSTALLER  
CALL 908-279-1544 FOR FAST FREE ESTIMATES
ArmorPoxy Prep Crete is the leading NYC Concrete Floor Prep Contractor for virtually any concrete floor surface prep project including concrete shot blasting and concrete floor grinding. No job is too large or small! Prep-Crete Services NYC and surrounding areas.

Utilizing the area's largest armada of specialized concrete floor surface prep and floor polishing equipment from leading manufacturers like Blastrac, we can perform virtually any type of flooring surface for application of floor coatings, tile, hardwood and terrazzo.
Our services include:
Concrete Floor Shot Blasting-A process that uses machinery to blast downward at the floor steel shot which bounce off the floor and remove dirt, grease, etc and profile the floor. The shot is recycled and the removed debris is collected in a large vacuum. Use to prepare for coating applications and the installation of tile and terrazzo. Click here for information on shot blasting.
Concrete Floor Milling-A process of using custom-built (NO other service company on the East coast has this equipment) hydraulically-operated machines that rotate horizontally across the floor to remove old coatings, mastics, and concrete topcoats. This is an aggressive, and somewhat more expensive method of surface prep due to lower square ft/hour production. Normally milled floors then need to be shot blasted as a final step. Click here for video of milling process.
Concrete Floor Grinding / Diamond Floor Grinding – This process uses a motor-driven machine with horizontally spinning diamond-embedded blades that remove several thousandths of an inch of the floor. A coupled vacuum captures removed material. Concrete Floor Grinding / Diamond Floor Grinding is used for nominal leveling and smoothing out of surfaces and to prepare for coating applications. A wide variety of diamond blades are available to achieve the proper surface textures and results. Click here for information on diamond grinding and polishing.
Concrete Floor Shaving/Concrete Slab height lowering-This process uses custom made machinery with platters of large diamond blades to shave and lower floor height, match uneven slabs, and to remove thick coatings, poured floors and quartz floors.
Concrete Floor Polishing-This process uses the same machines as diamond floor grinding except that the diamond blades are changed 6-7 times to successively finer and finer grits, resulting in an eventual 'polish' to the concrete. This is the same process like granite and marble is polished to a shine from raw material from the ground.  Often used in retail stores and such due to low maintenance costs. Floor polishing is a high cost/square foot.
Concrete Floor Scarifying-A process of using a machine with  hammer-type rotating blades that 'beat' the floor to remove old coatings and toppers. Causes the most profile and irregularity, and often requires diamond grinding to smooth out the floor if a coating is going to be applied. Click here for information on scarifying.
Floor Tile Removal / Carpet Removal / Floor Mastic Removal – Uses ride-on machine to remove large areas of carpet and vinyl VCT and similar type tiles and removal of floor glue / floor mastic.
Call our office at 908-279-1544 for more information, or to have a salesperson contact you and arrange a jobsite visit.
Save
RetroPlate Floor Polishing System
*AUTHORIZED RETRO-PLATE CONCRETE POLISHING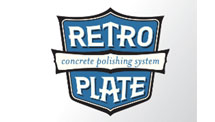 The RetroPlate Concrete Polishing System® is the innovative combination of diamond grinding, polishing, and the RetroPlate® densifier. 
Historically, concrete floor owners had few low cost options to protect and beautify their floors. The RetroPlate System emerged to give owners the benefits of coating without ever having to reapply.
The results?  A patented means to permanently strengthen concrete floors that delivers a highly abrasion resistant, dustproofed surface with increased impact resistance and reflectivity. With the RetroPlate System, problem floors are a thing of the past!
CONCRETE SHOT BLASTING, CONCRETE FLOOR SHAVING AND CONCRETE FLOOR GRINDING EXAMPLES BELOW
CONCRETE FLOOR MILLING EXAMPLES BELOW